Najmieh Batmanglij's book, Food of Life, is a gift to all Iranians, and to the world. In it, she shares delicious recipes from every region of Iran, and also writes about the folklore and literary traditions and poetry of ancient Persia and contemporary Iran. Her food knowledge is encyclopaedic, and she also speaks with authority, and love, about the traditions of our ancient culture.
 KUKU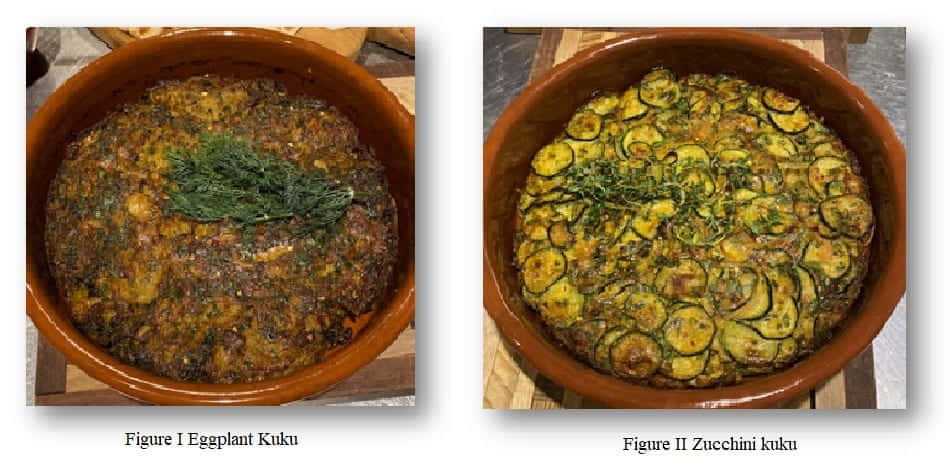 Every Iranian thinks their family recipes are the best. After all, we all smelled these dishes cooking in our homes and the homes of our friends and families as we were growing up, and we watched our parents preparing and cooking in their own special way. I remember watching my mother moving around the kitchen preparing food, from even before I could speak.
But the kuku (frittata-like) recipes in this book taught me two techniques. Firstly, to caramelise the onion, garlic and fresh vegetables, and allow to cool, before adding to the egg and herb and spice mixture, and, secondly, to heat the baking tray in the oven before putting the final batter into it (a little like the traditional technique for Yorkshire pudding, that my wife's very English grandmother used to make). These simple techniques give a depth of flavour to the kuku dish, that is truly luscious. We have made this basic recipe with eggplant, zucchini, and broad beans, and they have all been delicious.
          Figure III  Zucchini Kuku
Batmanglij's kuku recipes (pp. 141-150 in Food of Life) are in high rotation in our kitchen. Last night, we made zucchini kuku, and served it with pepita pesto, made from Diana Henry's recipe, hot smoked Tasmanian salmon and trout, and sourdough bread from our local bakery, All Are Welcome. The saltiness of the fish was a great accompaniment to the mellow, caramelised flavour of the kuku. It also brought back wonderful memories for my family, of enjoying hot smoked food on Tasmania's beautiful Bruny Island.
Morgh-e tu por-e torsh-o shirin
Over this period of the global COVID crisis, we have been cooking more elaborate dishes at home, and Sweet and Sour Stuffed Chicken (p. 208) was well worth all the chopping up of different fruit for the stuffing. Apart from that preparation work, this elegant-looking dish provided a good return for labour; it came out of the oven looking as if it had been a whole day's work.
At first, I was sceptical about the use of the lime juice and saffron as a baste, but its tanginess was a perfect marriage with the turmeric and salt rubbed chicken and its buttery, fruity filling. We used one larger free-range chicken rather than two smaller, or game, hens, and the cooking time was still accurate. The meat was moist and the skin was crispy and golden.
We served it with fresh herbs, zereshk pollo (barberry rice) which also combines tartness with sweetness, and Greek yoghurt.
As always, Batmanglij generously offers variations (no vegetarian variations for this recipe, for obvious reasons), and next I think I'll try the rice and cherries stuffing, or maybe lime, dates and capers. This is a great celebration dish, which I suspect will replace our old go-to dish of Persepolis chicken.
———-
Broad bean, dill, and eggs are such a delicious combination, and so I was fairly certain that the recipe for khoresh-e gol dar chaman (Fava bean and dill khoresh), on p. 313 of Najmieh Batmanglij's Food of Life book, was going to be very good. It did not disappoint, from the fresh green colour of the beans and herbs, to the fried eggs that balanced on top of the chickeny broth. It was a very savoury and comforting dish, especially served with coconut jasmine rice. It would be the perfect winter dish, for those evenings when you want something to soothe and warm you from within.
We made a few very slight amendments to the recipe in the book, using ½ cup less liquid, and we used chicken stock instead of water, and ½ the amount of verjuice, because ours was red, and a little sweeter than white verjuice.
This was a hit with the whole family, and we will make it many times over.
———-
This week we also made gerdu mast mahi (fish baked with yoghurt with walnut and dill topping) which can be found on p. 211 of Food of Life.
Like Najmieh's mother, my own mother used to tell me never to eat yoghurt with fish, because they are both cold (saard) foods according to Persian tradition (Najmieh gives a list of these classifications at the end of her book). The mamans don't need to worry, though, because this dish is perfectly balanced; both with hot and cold ingredients, and also in flavour and texture.
The yoghurt takes on an almost tahini-like nuttiness as it bakes, and this works with the presence of citrus, in the lime zest and juice, to counter the smoothness of the white fish (we used rockling fillets from our beloved Psarakos market in Thornbury). The crunch of the walnut and toasty breadcrumbs adds a textural element, which next time I might further enhance with the addition of pomegranate seeds.
It looked and tasted very good, as if it had taken much more preparation and effort than it did. We served it with sabzi polo (herbed rice) and potato tahdig.
———-
Tonight we made kuku-ye gol-e-kalam (cauliflower kuku) from p. 144 of Food of Life. This recipe follows the same basic technique of all of Najmieh's kuku recipes: caramelising onion, garlic and vegetable, and then adding this to a mixture of beaten egg, flour, baking powder and various spices, herbs, and other flavours.
Like all the others, this variation was delicious.
The mellow sweetness of the caramelised onion and cauliflower was balanced by the heat and smokiness of the spices, and it baked to a golden crunchiness in the oven.
We served it with smoked trout, bringing Iran together with Tasmania, and a pinot grigio, rather than traditional bread, herbs and yoghurt.
This would be a perfect picnic dish. Although it is rainy and cool in Melbourne tonight, this dinner brought some summer into our home.
———-

The kalam polow recipe in Food of Life (p. 276-7) is quite different from my family recipe, so I made a few amendments as I was cooking it. I enhanced the tomato flavour by adding a tablespoon of tomato paste, and also added cinnamon as I was cooking the cabbage and meat mixture, as well as the cumin and cinnamon in the layers of rice. The recipe also suggests adding a garnish of caramelised onion during the second steaming process of the rice, but I caramelised the onion and used it, with some chopped parsley, as a garnish after I had served it.
The dish was delicious. The mellow flavour of green cabbage worked beautifully with the spiced meatballs and the intense citrus taste of limon omani. It was a really interesting flavour overall, but also somehow familiar and comforting. We served it with potato tahdig and yoghurt, and a lovely, light pinot noir.