Essential Maintenance Techniques
Maintaining the beauty of a rug requires a thorough and proper cleaning regularly as well as techniques that will prevent damage from occurring. It is possible to repair damage to a carpet, but is often much simpler to take the necessary precautions so that the rug is protected from damage.
Cleaning
A rug should be vacuumed regularly, as frequently as any other carpet in the home is cleaned. Also, once a month, it is recommended that you flip your rug over and vacuum the reverse side. This ensures that your rug is getting a deep cleaning. It is acceptable to use a rotating brush on the underside of the rug, but it is better to use the suction apparatus to clean the front of the rug. If your rug has tassels or a fringe, it is advisable to avoid vacuuming them, as they can be easily damaged.
Every handmade carpet needs a wash every 4-5 years. The best process for washing a hand-knotted rug is to beat the rug first to free the dust hidden in the pile, and then hand wash it completely, using water and wool shampoo or natural soap. This process takes a few hours and needs to be skillfully and carefully done, to avoid damaging the colours and pile during the washing process.
We have a professional in-house washing service at Majid Carpets. Drawing on our long-term experience in the field, we will assess your rug and then advise you of the most effective and economical cleaning process, and then carry it out to our exacting standards.
If by any chance it becomes necessary for you to spot clean your rug, you should test the solution you have on hand in a small area to see how the material reacts, before cleaning the whole affected area.
I will be always happy to advise customers on emergency staining cases, so please feel free to call me on 0412378798 if you spill a colour liquid on your rug.
Restoration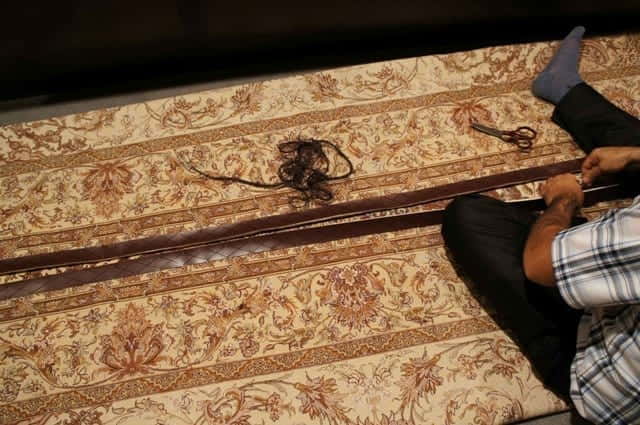 A rug may also experience damage that is due to prolonged exposure to water, sun, or other natural elements. Also, pets that chew or scratch may also damage a rug. It is possible to restore your rug, depending on the extent of damage that has occurred. In some cases, it may be best to seek the help of a trained professional, particularly in cases where there are holes in the rug or frayed edges. However, there are some techniques that can be used to restore rugs without the assistance of a rug repair specialist. If there are holes or tears in the rug, then it is possible to embroider the area with the wool or fabric used in the rest of the rug. Self-restoration may require a skilled hand, a creative eye, and attention to detail; so, many people opt to allow a trained professional to handle the restoration process.
Stain Removal
Red wine, or any coloured liquid, sometimes spills on carpets. Don't panic if this happens at your place. The first step is to act quickly. Rub a spoon deep into the pile (in the direction of the nap of the pile) and scoop away as much of the spillage as possible. Then gently pour very cold water on the stain, and repeat the scooping method with the spoon, until you have diluted the stain to its minimum colour effect. Then use a clean cotton towel to absorb the spill from the pile.
After applying this technique, it is important to create a stain removal solution, using natural soap or dishwashing detergent mixed with water, and brush the solution on the stain. Gently rub into the pile to make sure the solution is penetrating, and leave for a few minutes (when rubbing the solution into the rug it is important that you don't rub it in a circular motion) before rubbing it with a clean towel until almost dry, and then leaving it for a few hours to dry. This way you can at least decrease the intensity of the stain. If the stain remains, after this procedure, please bring the rug to us for a complete cleaning process.
Damage Prevention Techniques
A rug should be rotated at least 180 degrees twice a year. This allows the wear to distribute more evenly on both sides of the rug. It is also important to take steps to avoid damage that can occur to your rugs. A rug should remain dry at all times on a stable, flat surface. The essential element to a beautifully maintained rug is a thorough vacuuming every week, preferably twice a week.